Question for you …
Can you use long copy for selling soda?
Most people love to question the use of long copy.
"It's not needed" … "No one will read all of that" … "You can do the same job without all the words," etc.
All untrue.
How do I know that?
Facts. Based on a hundred years of measurable, scientifically proven tests.
The results of the test? Long copy will always outperform short. A four page letter will outperform a two page. An eight page will outperform a four page … and so on.
Here is an example from 1923 …
selling of all things … soda.
Canada Dry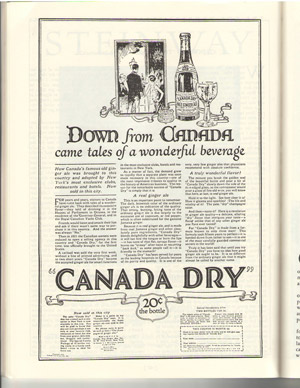 Click on the image to see a larger version.
Written by George Cecil.
Headline:
"Down From Canada Came Tales Of a Wonderful Beverage"
The subhead and intro …
How Canada's famous old ginger ale was brought to this Country and adopted by New York's most exclusive clubs, restaurants and hotels. Now sold in this city.

For years and years, visitors to Canada have come back with tales of a wonderful ginger ale. They described its exquisite flavor – – they told of drinking it in the Houses of Parliament in Ottawa, in the residence of the Governor-General, and in the Royal Canadian Yacht Club.
And on the story goes … for a whopping 700 WORDS (or so) in total! SELLING A SODA!
So … did it work?
* The first day after the first ad ran, 500 CASES were sold.
* In 30 days, the plant was working overtime.
* In 90 days, it was 300% OVERSOLD.
* In 1923, the orders were 5-10 TIMES the capacity of the plant.
* A new plant was built designed to fit "all future requirements."
* In January of 1924, they sold MORE THAN ALL OF 1923.
Long copy … selling a soda drink.
Yes, it worked.
To say the least.
And yes, it WILL work for you when you find the right message.
Tell your story in a compelling way.
And tell it as often as you can.
Find a few ways to make these lessons work for your business…
This article was first published in The Total Package. To sign-up to receive your own FREE subscription to The Total Package and claim four FREE money making e-books go to www.makepeacetotalpackage.com.