5 Ways to Use Content Marketing to Repair-Your Brand Reputation
A brand's reputation can make or break the success of a company. Now with viral videos, popular online reviews, and social media, a brand's reputation can tank faster than ever. Don't rely on old techniques to rebuild your online reputation. Embrace new technology and repair the damage done to your brand's reputation with these simple steps:
Influence bloggers
Bloggers have become online gurus in an infinite range of fields. They comment on everything from current events to popular brands and products.
Find a blogger who specializes in your field and make a connection. Alltop and Blog Catalog are great search tools that will help you track down a fellow blogger. Perhaps you could write up product reviews promoting your new products. Or maybe provide the blogger with an exclusive interview where you openly discuss the past failures of your company and explain how you are working to change the past.
Winning a seal of approval or endorsement from a respected blogger could do a lot to save your brand's reputation. Xbox is a great example of successfully using guest bloggers. Their use of guest blogs has boosted their reputation within the gaming community and provided the expert advice they were lacking. Their blogs are now the go-to source for gamers.
Reply to social media buzz
Facebook and Twitter allow customers to make online complaints the instant they experience bad service. Some companies try to put the lid on these negative posts by deleting them from their social media sites. That's a terrible idea! It gives the customers who noticed that these negative comments disappeared another negative thing to comment about-and another reason to distrust your business.
Ignoring the posts is almost just as bad. Never let the complaints hang out in cyberspace for everyone to see, with no context or explanation from your company to mitigate the damage.
Customers want to know you listen to them and take their complaints seriously. Make sure you monitor your social media accounts for complaints and respond quickly in a kind and professional manner. Be sure not to formulate automatic responses. You need a personal touch to create a positive relationship between your company and its customers.
Most successful companies hire social media specialists to keep an eye on their social media sites around the clock. These specialists are also trained to handle posts in a professional manner. For example, a professional knows how to type a well-written response to an angry customer even when the customer is obviously wrong. It's the same reason companies hire customer service reps-professionals know how to handle every situation.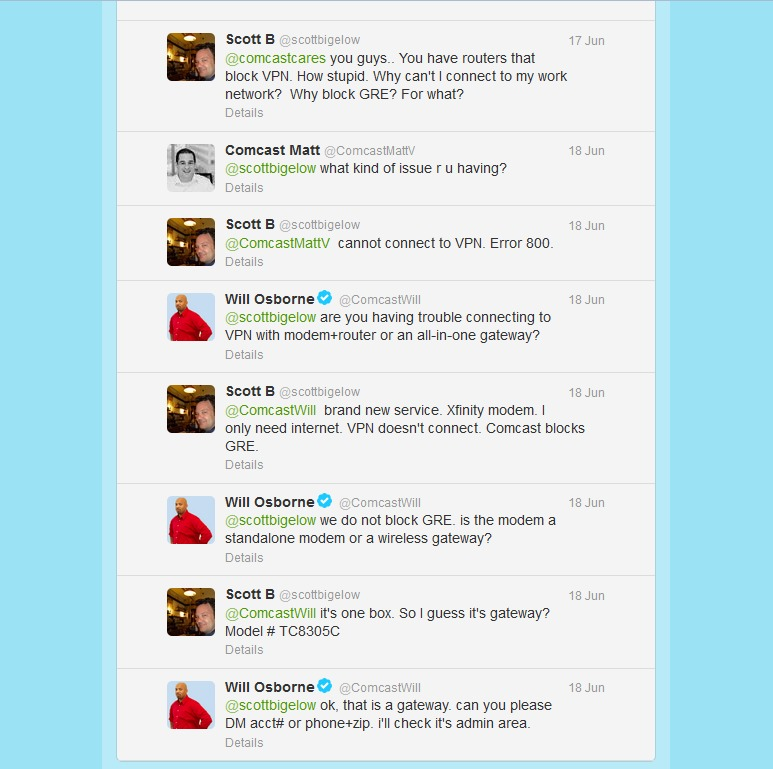 Image Credit: Twitter
If a customer service representative can handle a customer's issue with patience and grace, he or she can help calm that customer and avoid risking losing him or her. For example, see the screenshot above of an interaction between an angry customer and Comcast's customer service team
Once you reestablish trust with your customers and create a positive social media presence, you can begin to rebuild your reputation in a positive light.
Address problems head-on
Social media is not the only public outlet for complaints. News agencies are quick to report customer complaints. Ignoring the problem and hoping it will go away is never a good idea. Studies show that companies have better luck recovering their reputation when they address negative stories reported in the news openly.
Look at the example of FedEx. At the end of 2011, a video surfaced on YouTube showing a FedEx delivery driver throwing a computer monitor over a locked fence. The video went viral, and the FedEx brand's favorable reputation began to crumble overnight.
The president of FedEx used YouTube to respond to the video. His open apology helped to repair the damage and win customers back. Now when you search for the FedEx video on YouTube, you see the apology video instead of the complaint video.
Rally loyal customers
Unfortunately, people tend to post more online reviews when they are angry rather than when they are satisfied. Those negative comments can really do damage to your brand.
Take time to rally your loyal and happy customers to post positive reviews. Send out an email to your customers and ask them directly to post a positive review and give them the link to the site where you want the reviews to appear. You can also post requests on your social media sites. An increase in positive online reviews can help change the way people look at your business and erase the damage done to your brand's reputation.
Seek professional help
Bad reviews can quickly ruin your brand, and you may need professional help to repair your image. Some sites offer advice and services to improve a business's online reputation and brand.
They suggest improving the quality of Google search results by creating positive online content for your business. They also offer advice to help you take control of your brand's reputation once and for all.
Sites like Reputation.com will take control of your online brand image by creating positive online content like guest blogs, product reviews, and promotional articles. They also use search engine optimization (SEO) to promote your positive brand image. The combination of SEO and added content will overpower the inaccurate information or online smear campaigns that may be destroying your company's brand. So, when someone performs a Google search for your company, the negative online content will be pushed to the bottom of the results list and hopefully out of sight.
In the end, it is up to you to control the reputation of your brand. Don't leave it up to chance, and don't pretend the negativity doesn't exist. Be proactive and put a positive spin on your image every chance you get.
Kim Wade is a freelance writer who writes about motherhood, blogging, and writing for new media. Follow her on Twitter at kimwade1.